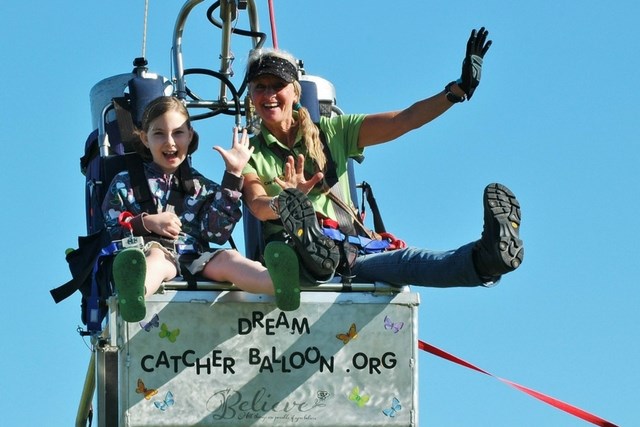 Fulfilling Dreams
Every September at Harvest Day, residents and visitors to Tehaleh have the unique opportunity to see
the community from a new perspective. Captain-Crystal Stout, owner-operator of Morning Star Balloon Co.
and a third-generation aviator and hot air balloonist, brings tethered hot air balloon rides to the
festival allowing people of all ages and abilities to take flight. The ride takes visitors 25 feet
into the air for stunning views of Mount Rainier and the parks, trails, and open space below. Last
year alone, she estimates giving rides to 175 event-goers at Harvest Day.

What truly sets Captain-Crystal's hot air balloon company apart is that she also pilots the hot air balloon,
"Dream Catcher." The Dream Catcher is a one-of-a-kind, specially designed hot air balloon for people
with limited physical capabilities. "It brings joy to those held down by physical or mental conditions,
and educates the world that we can all help those around us rise to greater heights," said Captain-Crystal.
Those who are wheelchair-bound or with mobility challenges can simply slide into the seat to be secured
with a five-point harness. This unique design allows individuals to safely and easily access the hot air
balloon experience; eliminating the need to climb into an actual basket (similar to climbing a horse).
In Tehaleh, Captain-Crystal was also able to give Dream Catcher rides to parents who held their young kids
in their laps.
During a typical 2-5-minute experience, riders soar alongside Captain-Crystal, whose smile, energy, and
enthusiasm is contagious. "It's a thrilling ride because your feet are dangling and we spin it 360-degrees
around so you get to take in the whole view below," said Captain-Crystal.

When the Dream Catcher is not making its annual visit to Tehaleh Harvest Day, Captain-Crystal travels
throughout the US to fulfill as many dreams as possible. "I like to call it my bucket list balloon. After
the flight, everyone who rides gets a button!" she said. So far, approximately 500 people who may otherwise
not have the opportunity, have seen their dreams of flight become a reality.
The Dream Catcher program operates as a non-profit charity corporation under the name, Chrysalis a 501(c)(3)
organization. Captain-Crystal is the Executive Director and she encourages people who are interested and excited
about her mission to get involved, either by volunteering, donating, or sharing the opportunity with those who
are in need of a "unique and life-altering adventure" through the www.DreamCatcherBalloon.org website.
Back in 2015, the funds from Harvest Day, paid by Newland, went toward funding the Dream Catcher's
travel to Albuquerque, New Mexico for the largest Balloon Fiesta in the world where she was able to grant 132
dream flights. Captain-Crystal has also taken the Dream Catcher international, giving rides to people in the
Philippines at the 2017 Lubao International Balloon and Music Festival.

Captain-Crystal shares heartwarming stories and testimonials of people's experiences with her one-of-a-kind
hot air balloon on her Facebook page and blog.