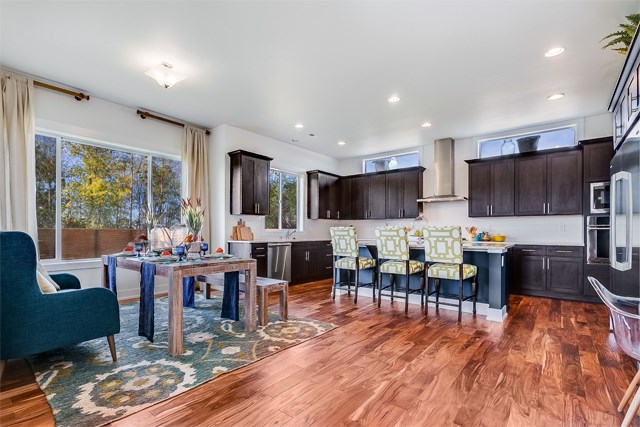 Love at First Home Site
With their belongings in storage, their individual homes sold, and life temporarily downsized to a 700-square foot apartment, Paul Gingerly and Stephanie Olmstead were chomping at the bit to start their new life together in their first joint home.

Months into their extensive search of the Seattle/Tacoma real estate market, Paul found something special - the beautiful, expansive Silver Star home from Azure Northwest at Tehaleh. He knew immediately that they needed to visit - "I told Stephanie - let's go for a drive."

The Silver Star's 3,915 square feet of living space and Tehaleh's parks, trails, and sense of community were a winning combination. "We were blown away by the size of the home, value for the price, and the neighborhood," Paul said. The smart layout and community aesthetic inspired Paul and Stephanie to pick out a lot and put down an offer right then and there. They were glad they did—the builder had already received three offers that day.

Now, with their boxes unpacked and new friendships quickly forming, Paul and Stephanie feel right at home in Tehaleh. They rave about their chef's kitchen with a double refrigerator and massive island, and the spacious master bedroom and bathroom. "Stephanie loves cooking and entertaining in that amazing kitchen," said Paul. "We've already had a few gatherings and we love how the kitchen area is open and perfect for mingling."

The couple also enjoys entertaining guests on their covered patio out back, and up on the rooftop deck that looks over the greenbelt past their backyard. A special bonus? To the east, Paul and Stephanie can see majestic Mount Rainier.

When they aren't hosting friends, or catching views of nature, Paul and Stephanie like taking their pup, Winston, to Hounds Hollow park, where he can run around freely. Paul got a little running in recently, too, when he joined neighbors for a friendly game of dodgeball at the park The Edge

As Tehaleh continues to grow, so does the couple's excitement. "I would definitely recommend Tehaleh to my friends," said Paul. "It's exciting to be here in the earlier phase. We get to watch everything grow around us; we're excited for the future."

Begin exploring model and available homes by Azure Northwest at Tehaleh today!