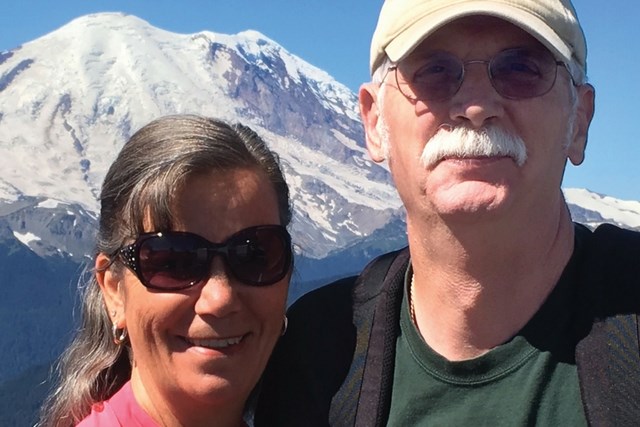 Meet "The Slug Man" Bob Brown
Known to Tehaleh residents as "The Slug Man," Bob Brown's love of nature goes back to his start as a
Boy Scout and eventual Eagle Scout, an accomplishment he's very proud of. His goal is simple – teach
people, of all ages, about the wonders that can be found in their own backyards.
"I want to light the spark and make sure people know that nature needs to be enjoyed and protected,"
said Bob. His life has been an example of just that. The former California resident spent 29 years
volunteering in California state parks, teaching kids about nature and animals such as the elephant seal.

But when his daughter, son-in-law, and granddaughter relocated to Washington, Bob and his wife decided
to come along. From their first visit, they knew they wanted to be part of the close-knit active adult
community, Trilogy® at Tehaleh®. The trails, wildlife, and proximity to family were an added bonus—their
daughter and son-in-law also ended up buying a new home in Tehaleh, less than a mile away from Bob's
house in Trilogy.
Now, Bob's goal is to inspire the next generation of nature lovers in Tehaleh, including the kids at
Donald Eismann Elementary, the public school in the center of the community. At the request of his
7-year-old granddaughter, he came to her class for show-and-tell and taught them his banana slug song.

At the annual Harvest Day, Bob recruited a few banana slugs from the trails to give festival-goers the
opportunity to get up close and personal with nature. He also brought small medallions made from local
red cedar, prevalent on the trails, which kids decorated and wore proudly. "It's all part of doing a
good deed every day and passing it on to others," Bob said. "It makes me feel good to see the kids smile."
The Tehaleh trails are a big part of his everyday life. He meets up with a group of neighbors every weekday
morning to walk for several miles through the forest. "There's a core group of five or six of us, but we can
get upwards of eight people and as many as four dogs on any given day," Bob said. When the rest of the group
stops for coffee at The Post, Bob usually keeps walking a few extra miles – logging about five miles on a
typical day.
As you explore the trails, you may stumble upon an unusually colored rock. These Tehaleh Rocks are painted
by local residents, including Bob – who has painted and placed more than 70 rocks around the trails. What
makes Bob's rocks different is they can be returned to The Post in exchange for one of five booklets filled
with fun information and activities. The booklets cover the nature and wildlife that can be found in Tehaleh
and the surrounding area, like banana slugs, trees, Washington state emblems, local Native American tribes,
and the FBI (that stands for fungus, bacteria, and invertebrates).
"I want people to be naturalists – observers of nature," Bob said. "I'll give you tools to get outside and
take a look at what's around you." Download the trail guide today and discover your own Tehaleh adventure today.