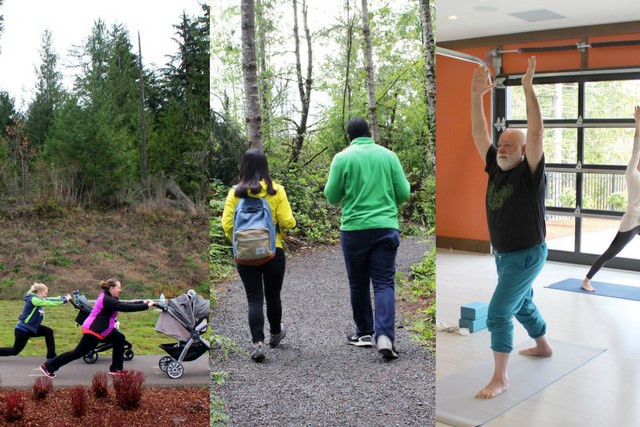 6 Top Tips: Staying Fit Year-Round in Tehaleh
It's no secret that outdoor living is a year-round pursuit in the Northwest, and nowhere does that truth shine brighter than in Tehaleh, where residents have found the secret to staying fit outdoors, come sun, wind, or rain.

The top six tips for staying fit and enjoying the outdoors year-round in Tehaleh:
Find your flock. Studies have shown that having peers to exercise with increases your likelihood to work out. Tehaleh not only offers a tight-knit community with many health-minded neighbors, it also offers several exercise groups. Joining a group is a great way to get exercise, enjoy the 10+ miles of beautiful Tehaleh trails, and make new friends. An on-site mountain biking group and running group have regular trail rides, walks and runs designed for all skill levels. Active-adult residents can join a dedicated walking group, and for those in the Trilogy at Tehaleh community, Seven Summits Lodge offers members an indoor/outdoor fitness studio and state-of-the-art fitness equipment. For those who enjoy the gym experience, the local YMCA waives joining fees for Tehaleh homeowners!
Pamper that body. A proper warm up is key to stretch muscles and prepare them for physical activity – stop by the Warming Hut at the start of your workout to stretch, loosen the joints and increase blood flow to the muscles. Post-hike, stop by Caffe D'arte to refuel with a variety of healthy food and drink options.
Set a personal goal. Signing up for a walk, marathon, or triathlon will compel you to stick with your fitness program. When you register for an event and put it on your calendar, you're more likely to see it through. Looking for races in the area? Look no further than your own backyard! Tehaleh's annual Harvest Day hosts a 5k, 10k, half marathon, and marathon as part of the festival. Visit Evergreen Trail Runs for more information on this and other events nearby.
Keep it moving. If you keep moving and striving to meet your goals, you win. Even when it's cold and wet outside, a brisk walk or run will still pay off. With the right gear, Tehaleh residents have been known to log miles on the trails even in snowy conditions!
Revel in nature. With varied terrain and ever changing scenery, your workout is never boring and never the same. One day, your walk may take you through scenic ponds and greenways while the next could be spent on the winding Forest Park trails. 
Play! Tehaleh's 11 parks offer unique opportunities for fitness. Sticks 'n' Stones Park, features monkey bars that can be used for pull ups, boulders for push-ups and large logs to jump over – a great cross-training workout. In the warmer months, neighbors gather to enjoy yoga in Big Sky Park.

Let the beauty of Tehaleh inspire your exercise throughout the seasons, from the crisp, lush autumns and winters to the bright, sunny springs and summers. With parks and trails outside your door, once you get started, you'll be unstoppable!