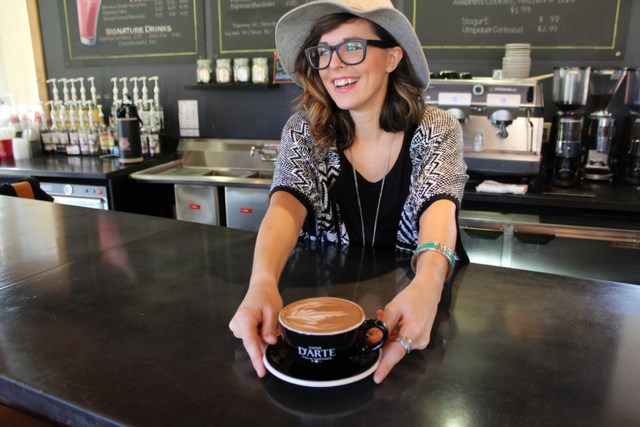 A Double Shot of Barista Favs
Get in on the espresso talk from Tehaleh's Caffé D'arte.
With picture-perfect Mount Rainier views, the smell of rich coffee in the air, and a friendly face behind the counter, Caffé D'arte at The Post is a great place to get a glimpse of the close-knit Tehaleh community. The baristas at Caffé D'arte are always part of the action, and if you've ever wondered what the experts drink, today's your lucky day! Here's a little about them and their favorite things to eat and drink:

Kendra
Favorite drink: Iced americano with honey
Favorite eat: Hot veggie sandwich and strawberry rhubarb pie
Kendra has managed Caffé D'arte within Tehaleh for three years and feels like she's following her passion. Kendra says, "I get to feel like I am on top of the world. The view of Mt. Rainer from the front window of Caffé D'arte at The Post is refreshing and breathtaking."

Laura
Favorite drink: Tehaleh gourmet drip with caramel sauce
Favorite eat: French twist panini and cinnamon roll
Laura has lived in Tehaleh for three years and worked at Caffé D'arte in The Post for about half that time. She loves how her job allows her to be involved in the community and she enjoys describing the strong Tehaleh community to visitors. She loves when kids run to the counter, climb up on a stool, and order their drink. "They're showing their sense of achievement and independence when they get to order," she says.  

Cassie
Favorite drink: Vanilla Americano
Favorite eat: "Roasten" panini and blueberry muffin
Cassie, also a Tehaleh resident, has been at Caffé D'arte for a year and half. She says, "I love the sense of community in Tehaleh and seeing a lot of the same customers every day. It makes me look forward to coming in to work. It is so fun to get to know people that well!" Cassie usually opens up the café, so if you visit in the morning, she'll help you start your day!

Kayla
Favorite drink: Hot Peppermint Mocha
Favorite eat: "Gitcha Gouda" panini and the snickerdoodle cookie
Kayla says that the people who visit Tehaleh are, "the nicest people you will ever meet!" Like Kendra, she loves taking in the mountain view. She's had the Caffé D'arte latte art training and laughs that even when it doesn't come out quite right, her fellow baristas are quick to come up with a shape or animal that the art resembles!

Kate
Favorite drink: Dirty chai with steamed almond milk and espresso
Favorite eat: "Roasten" panini and cinnamon scone
Kate loves living and working in such a friendly community. Just be careful when ordering extra whipped cream. One time the canister exploded all over her and another barista – a delicious disaster!

If you're a resident or stopping in for a visit while touring the community's model homes, ask a barista for a recommendation and try out something new. Be sure to grab a latte before you hit the trails or stop in afterwards for a refreshing fruit smoothie and kick back next to the fire in the warming hut. There's even something for our dog visitors to enjoy – the pup cup, a small cup filled whipped cream, that will disappear in a matter of licks. You'll quickly find yourself feeling at home. As Kendra says, "we are like a second family!"