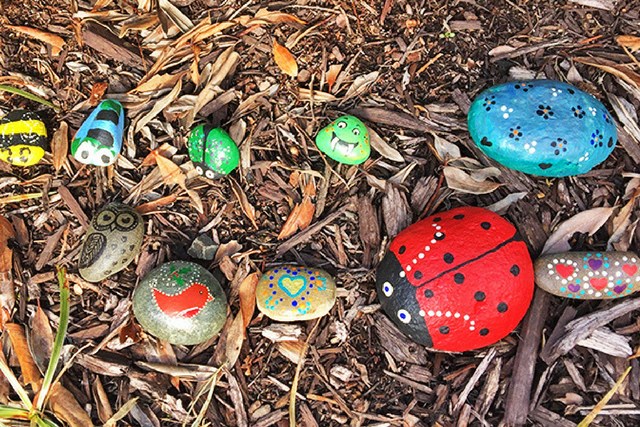 Even the Rocks Rock in Tehaleh
If you take a walk through any of the forested trails, parks, or even The Edge skate park within Tehaleh, you just might come across a silly face perched on a log, or Spiderman peeking out from a bed of moss. Since the fall of 2015, Josie Gibbs and her kids have been collecting rocks, painting them, and releasing them back into the wild for neighbors to enjoy.

"I love to paint – I've always painted rocks," says Josie, a resident whose home is a stone's throw from Big Sky Park. Naturally, her three children picked up the hobby as well. She used to simply use the painted rocks as decorative doorstoppers and garden accouterments, but her little ones had bigger plans.

When they moved to Tehaleh in the fall of 2015, Josie and her son, 4 years old at the time, would take the dog out for walks around the community. Her son loved to look for treasure and pretend to find things along the trails. One day, he suggested that they start hiding the rocks they painted – a great idea! Josie recalls, "I was beginning to wonder what we'd do with all of our painted rocks. We had already started giving them away to our neighbors!"

Josie along with her son and younger daughter often venture through the parks and trails of Tehaleh. Since the kids attend Donald Eismann Elementary School, in the heart of the community, they sometimes bring friends along from the neighborhood to participate as well. The kids love to strategically choose the hiding spots for their artwork.

Their hobby has even made its way onto social media, with the hashtag #TehalehRocks on Instagram. Josie says, "I enjoy it when people in the neighborhood find our rocks, take pictures, and hide them again." It's a neat experience for Josie's kids to stumble across their rocks in different locations, but it's also fun for anyone out and about. There are at least a few neighborhood kids with rock collections who are thrilled to go out in search of these colorful treasures!

The Gibbs family lived in Montreal, Quebec before they moved to Tehaleh. When Josie's husband was asked to transfer locations for work, Josie says they researched, "quality school districts and great places to live with young children." They're happy with their new life in Tehaleh; she says, "Honestly, it's been a great experience and we haven't looked back since." Check out the Tehaleh Homefinder to search for your new home today!