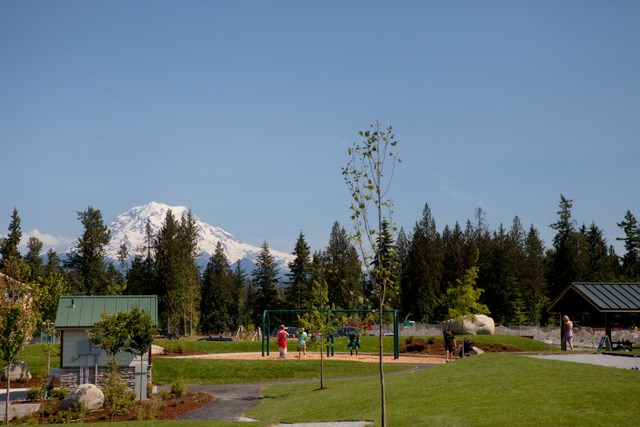 Tehaleh Summer To-Do List: Climb a T-Rex
In the Northwest, the first few weeks of summer are met with wild abandon, and who can blame us?
We flock outdoors for sun, fresh air, fun hikes, and sunset picnics in a new park each night. Here are
some of our top recommendations for events, camps, and other happenings around the Tehaleh area to
maximize summer enjoyment, for kids of all ages.
• Big Sky Park
You don't have to travel far for one of the area's best recreational spots. Tehaleh's Big Sky Park,
named for its spectacular views of Mt. Rainier and the Olympics, features a huge, open field, a
bocce ball court, a T-Rex bone climbing structure, swings, and a zip line. Add barbecues, a
covered eating pavilion, and restrooms, and the park is a perfect place to spend long summer
days with friends and family. The community's HOA committee also hosts movie nights at the
park for residents. Catch an old favorite or a newer release while munching on popcorn and
making neighborhood friends.
• Day Out with Thomas the Tank Engine
Thomas and his friend Percy will be chugging all the way from the Island of Sodor to Snoqualmie
for their 2017 Friendship Tour. Aspiring engineers of all ages are invited on a 25-minute train
ride with Thomas, followed by playtime in his Imagination Station. Storytelling, live music, and
mazes are just a few of the activities Thomas has in store. Join the fun at the Northwest Railway
Museum, July 14-16 and July 21-23.
• Edgeworks Climbing Camps
Has the jungle gym become too routine for your little climber? The New Rockers Camp at
Edgeworks in Tacoma will push your kids' skills to the next level. Top Adventure Rock instructors
teach kiddos, ages 6-15, everything from fundamental rock climbing methods and etiquette to
safety and fitness. Campers will get to practice knot-tying, rappelling, bouldering, and other
techniques in Edgeworks' state-of-the-art gym, and even outdoors at local climbing crags.
Programs for all levels run June through August.
• Gordon Family YMCA
Located just minutes away in the neighboring city of Sumner, the Gordon Family YMCA waives
all joining fees for Tehaleh residents. Membership gives you access to the 110,000-square-foot
facility where you can drop in for a climb on the rock wall or a lunchtime game of hoops. To
learn a new skill, consider signing up for a class. Programs include swimming, dance, martial
arts, and much more for all ages and abilities. Summer camps run from late June to September,
and offer dozens of options to make this the Best Summer Ever at the YMCA.
• Seven Summits Lodge – Active Adult Recreation Center
Summer excitement is not solely reserved for the kids. The young-at-heart have seemingly
endless options waiting for them at Seven Summits Lodge, the members only social and activity hub of the 55+
community, Trilogy® at Tehaleh®. The Lodge offers Trilogy residents an adult playground,
chock-full of fun and games such as billiards, ping pong, shuffleboard, a virtual golf driving
range, and a large swimming pool, adjacent to an outdoor lounging area and Pickleball courts.
Rolling doors open in the fair weather, bringing the outdoors inside. Grab a neighbor or two for
a dip in the pool, a meal at The Mantel, or a ping pong challenge – Seven Summits Lodge is your
own summer resort.
Even a night off from cooking can make a summer evening feel special. The Mantel, Seven Summits' private dining membership 
restaurant, is open to the public and serves weekly specials using local and seasonal ingredients.
Pull up a chair on the patio and savor the night!