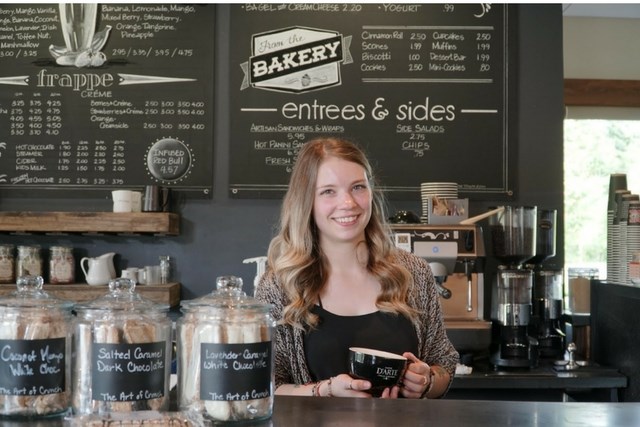 Can You Keep a Secret?
While the baristas at Caffé D'arte are sure to brighten your day with your go-to drink
order, they've got a secret brewing up in Tehaleh. Nestled in The Post, our new-home
information center, our expert baristas are drumming up a secret menu with some
delightfully unique flavors to surprise your taste buds.
We asked the café manager, Kendra, to share the scoop on some of these deliciously
unexpected recipes that only those in-the-know are ordering!
• Peppermint Snow: Or, as one of the baristas likes to call it, Snow in a Cup! A
   crowd pleaser, it's simple and sweet! The yumminess comes from Ghirardelli
   white chocolate, Monin frosted mint syrup, and white coffee.
• Fluff in a Cup: The kids' favorite – a cotton candy frappe that's blue, bold, and
   mind-blowing.
• Lemonberry: For those who crave summer flavors, all year long. This one tastes
   like hand-muddled blackberry lemonade in a smoothie – both refreshing and light.
• Two-Toned Matcha: This drink will energize your morning with the perfect fusion
   of flavors – it involves iced matcha powder topped with strawberry coconut milk.
   The baristas also call it a "Strawberry Patch" because of the colorful ombre
   layering of pink and green.
• Wood Roasted Organic Canned Cold Brew: This Fair Trade Certified™ organic
   coffee is nitrogen-infused and fire roasted with alder wood. The taste is
   one-of-a-kind! Keep it classic or give it a twist with some of our favorite Monin
   syrups such as toffee nut, butter pecan, or vanilla.
According to Kendra, the secret menu is limitless. "If you can dream it, we'll find a way to
make it," she laughed. "We love to work with our guests to create something memorable – then
we'll teach them how to order it again!"
After touring model homes, hiking on the trails, or shaking out the winter wiggles at the
park, stop in for something new at The Post. Just remember to whisper…it's a secret!