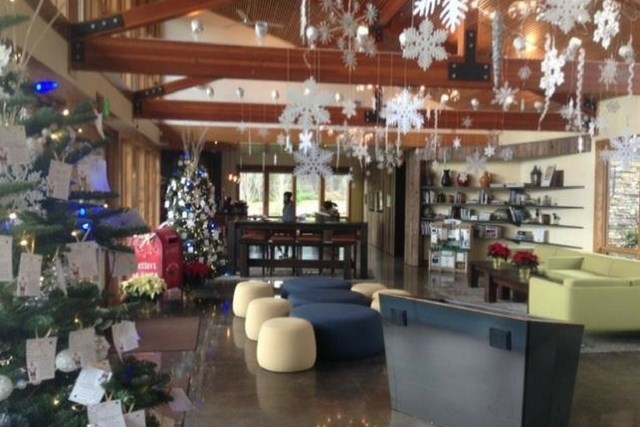 The Season of Giving Arrives in Tehaleh
The best time of the year is here and along with sparkling lights, fun in the snow, and joyful family time –
Tehaleh residents dedicate this holiday season to doing their part to make winter special for those in need.
One tradition that has grown each year are the Giving Trees and this winter, The Post is hosting two
giving trees, grown by our neighbors at the Hillside Tree Farm, where families can cut their own trees in a
mountainside experience without the drive. These festive fir trees not only help folks get in the holiday
spirit around The Post, they also serve as a focal point for collecting donations in the community.
Neighbors pick a tag off the tree and purchase a gift that will fulfill the dream of a child in the Sumner School District or families in our surrounding community who are most in need.

Donations are also collected for the families at the Family Renewal Shelter, and
Toys for Tots. Tehaleh also partners with East Pierce Fire for Operation Warm which is a program that
helps to supply warm, winter coats to local kids who need them. Bins in The Post are filled with Toys for
Tots donations until December 15th.
One particularly festive Tehaleh resident hosts Tehaleh Holiday Lights, a free light show each year,
complete with music for everyone to enjoy. They also collect donations for Toys for Tots and have setup a
Go Fund Me account for those who prefer to make monetary donations. 100 percent of all funds
collected are used to purchase toys for the charity.
Last year, Tehaleh residents did an incredible job collecting donations to improve the holiday season for
these important groups that serve our local community. In total, residents donated items for 91 students,
34 families in the shelter, and four kids' coats for Operation Warm. The Toys for Tots toy donation
bin was even filled twice over!
And don't forget to drop-off your letter to Santa Claus – Tehaleh is home to a magical mailbox that sends letters straight to the North Pole. Those who have been extra good this year receive a personal letter back from the jolly old fellow. Donating to your neighbors will surely help you make the nice list!
If you're feeling the spirit of generosity while holiday shopping – consider teaming with Tehaleh to give back to the community. Plan your visit today – once you deliver your donations, be sure to take a moment from the hustle and bustle to sip on a rich hot cocoa from Caffé D'arte and reflect on the season of giving.