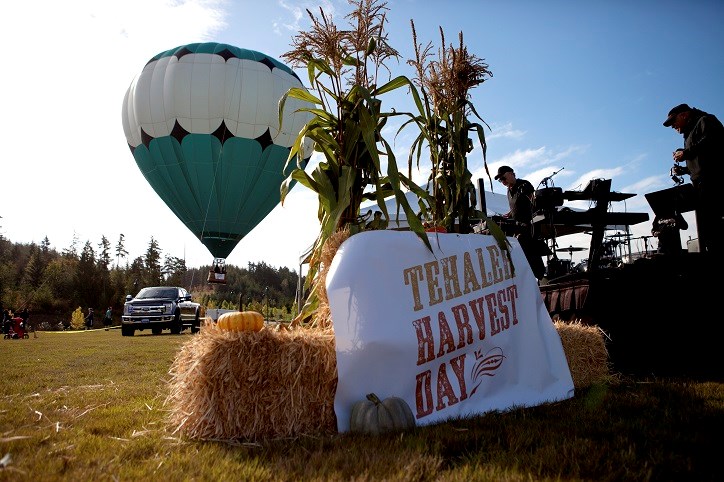 An Insider's Guide to the Harvest Day Festival!
Once the long days of summer begin to cool and leaves start to fall – the Tehaleh community knows that our 6th annual Harvest Day Festival is right around the corner! This year's event celebrates the bounty of the season and will be jam-packed with wholesome fun for the whole family: resident-guided trolley rides, face-painting, balloon animals, games of chance and skill, pumpkin painting, free tethered hot-air balloon rides, and much more!

Check out artisan vendors, grab a drink in our beer and cider lounge, groove along to some live music and enjoy a taste of the Pacific Northwest at our food truck rodeo.

To guarantee you and the family have a great time here are a few insider tips from our experts to make this year's Harvest Day your best yet!

1. Avoid the "Day of" Lines
• Residents can pick up their Harvest Day t-shirts the Thursday and Friday before the event at The Post from 10am - 5pm. Guests of the event can pick theirs up the day of the event. Come early, it's a first come, first serve. 
• Pick up your children's bracelets anytime the week before at The Post. These bracelets are needed for children to enjoy the rides.
• Get to the hot air balloon early as the line starts to form as early as 9am. Fingers crossed it doesn't rain, the balloon goes up weather permitting. 
2. Transportation and Parking
Meander through the trails, walk to the event, or take the free trolley – avoid driving if you can help it! For those coming from outside the community, there will be limited parking at Donald Eismann Elementary and Tehaleh Heights Elementary.
3. Trolley Rides
Are you curious to discover what life in Tehaleh is actually like? Or perhaps you live in Tehaleh and are eager to share the lifestyle with friends and loved ones? This year, our resident-ambassadors will be hosting guided trolley tours around the community. The trolley will be stopping at each model home for a fun activity.
3. Welcome Builders!
New this year: the builders are participating! Hop on a trolley to tour the models and participate in their fun, family-friendly activities. Each builder has something special planned! Don't forget you can enter to win a Great Wolf Lodge experience by visiting the builders!
• Azure NW – Harvest sensory activities.
• Brookstone – Mini pumpkin painting, football toss game with prizes.
• HC Homes – Barista from 11am to 3pm, corn hole and Caffé D'arte gift cards.
• Lennar – Say cheese! Take home a memory from the day at their seasonal photo booth.
• MainVue – Mini pumpkin patch and a dedicated area to decorate them.
• Noffke – Caramel apples and harvest crafts.
• Pulte – Yummy treats and drinks.
• Richmond American – Ice cream treats.
• Trilogy – Chef demo from noon to 1pm.
4. Quench Your Thirst and Relax at The Post
Those in the know will head down to The Post where they will be featuring the winning flavor of the "Signature Harvest Day Drink" survey on Facebook. Elite Massage Professionals will be onsite to provide Elite Chair and Table Sports Massages for $1 per minute. You can also pick up your t-shirt and kids' wristbands, if you haven't already.

5. Community Love!
The HOA booth at Kite Park will be selling an exclusive Harvest Day, red Yeti rambler engraved with the Tehaleh logo. Get yours before they're gone!

6. The Parks are Where it's At!

Yonder

• Free Tethered Hot Air Balloon. Fly 50 feet into the air from 10am to 1pm. Once the balloon comes down there will be a planned activity with the grounded balloon.

Kite Park

• Vendor Village. Discover local artisans for a little early Christmas shopping, as you wander through over 100 unique vendors.
• Food Truck Rodeo. Enjoy a taste of the Pacific Northwest while dining in the sunshine!
• Live Music. Dan Walker & Shannon DeLong from 11am to 1pm.
• Beer and Cider Lounge. Sponsored by The Old Cannery Furniture Warehouse.

Kidz Zone at Kite Park

• Cyclone Swing. It's a bird! It's a plane! It's….YOU! See an aerial view of Tehaleh by taking a ride on this carnival favorite. With over 20 swings, the whole family can join!
• Inflatable Tree Slide. Climb up the gigantic tree trunk staircase to reach the top of the 20' tall tree house before sliding back down to the bottom!
• Tinkergarten Mud Bin Activity. Immerse yourself in the magic of Tinkergarten – outdoor classes where kids learn through play-based activities.
• Tehaleh Resident: Bob the Slug Man. Showcasing Native American stone tools found in our local area, he will have 15 items from everyday hand tools, drills and hammers to fishing weights. Learn about the many uses of the Red Cedar, "The tree of life", and how they would use the hand tools to create clothing, boats and fabrics from the Red Cedar.
• Balloon Characters. Giggleworks will be onsite with their talented balloon artists creating just about anything you can imagine. What will you ask for???
• Fugate Ford Face Painting Tent. Roar like a lion. Fly like a bumblebee. The sky is the limit at this face painting tent!
• Dancing Scarecrows. These friendly scarecrows come to life from 11am to 1pm and you're free to boogie alongside them!
• RC Boats on Display. Enjoy a hands-on experience at the fun float with the Commencement Bay Maritime Modeler's Club
7. Don't Forget to Sign Up for the Harvest Day Trail Run!
The course will take runners on a scenic loop winding through the trails of Tehaleh with Mt. Rainier visible in the background for much of the run. Aid stations will be stocked with water, and plenty of fruit, cookies and crackers. Runners can opt for the 5k, 10k or half marathon course while kids will enjoy the 1k kids run.