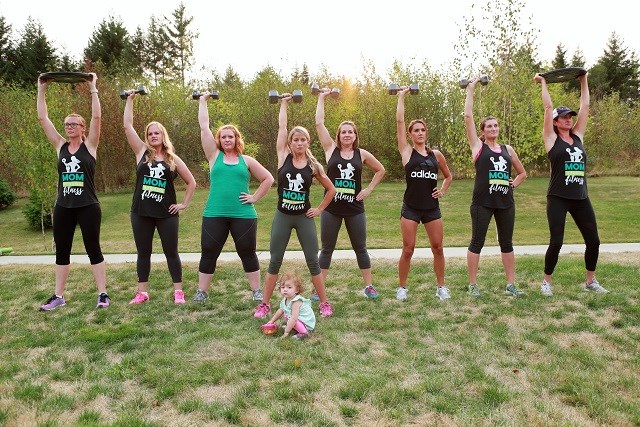 Staying Healthy, Getting Strong in Tehaleh
"I wanted to put a positive stamp on the community in a way that I know I'm good at, which is through fitness instruction," said Jaclyn Hahn, a Tehaleh resident, mother, and owner of Evolve Strong Fitness.
After moving into her Richmond American home in early 2017, Jaclyn quickly made good on her dream of launching her own fitness classes within the community she now calls home.
With a background in health science and a doctorate degree in physical therapy, Jaclyn is passionate about rehabilitation and physical fitness, and is also a mother prioritizing quality time with her daughter. With those credentials and desires, Jaclyn built the perfect local business for her lifestyle. Evolve Strong Fitness is a boot camp class based in Tehaleh that focuses on the common goals of burning fat, building muscle and getting in shape, all while honing in on individual needs like joint stability and pain relief.
"While each session is done in a group, I also make sure to customize the workouts to challenge everyone – and keep them safe," said Jaclyn. "I know what these women are capable of, so I'll approach them and provide tips and motivation as they're performing the exercises."
Throughout the week, the Evolve Strong crew participates in diverse workouts from bear crawling up the grassy hill at Sprouts Holler Park, one of the 11 unique parks in Tehaleh, to flipping tractor tires and jumping on the stadium steps. They also head out for runs along the more than 20 miles of trails that weave through the community.
"We make use of the elements around us to keep things fresh and fun," said Jaclyn.
With 40 to 50 regular attendees coming in and out of classes, Evolve Strong Fitness is an ever-growing presence in the community. Whether participants are mothers or not, they are welcome and encouraged to join. Even in the colder months when temperatures can drop to 35 degrees, count on Jaclyn and her Evolve Strong crew to be ready for some cardiovascular and muscle endurance training. Rain or shine, this no-nonsense group gathers every Monday, Wednesday and Friday at 9:15 a.m. at Sprouts Holler, and every Saturday at 7 and 8 a.m. in Jaclyn's garage gym.
"My mission with Evolve Strong Fitness is to help strengthen the community and our village," said Jaclyn. "I want these women to feel strong and capable, and to get reacquainted with their bodies. For this hour, I encourage them to take care of themselves without feeling guilty." Plus, the kids are right there – in strollers or playing nearby, watching their moms get fit.
Through word-of-mouth recommendations and in-person interactions with other Tehaleh residents, Jaclyn expanded Evolve Strong Fitness into the flourishing business it is today. Whether she's at The Post, Tehaleh's new-home information center, for story time with her daughter or stopping in to refuel at Caffé D'arte, Jaclyn speaks passionately about staying healthy and feeling good.
"Some women have expressed that when they joined Evolve Strong Fitness, their happiness increased," said Jaclyn. "It has been such a powerful journey for all of us and I want everyone to know that they are welcome – I like to make it work for everybody."
To embark on your fitness adventure in Tehaleh, contact Jaclyn through her website or by email at  evolvestrongfitnesswa@gmail.com. You can also follow on Instagram and Facebook for daily fitness inspiration – where many of her photos feature the strong moms of Tehaleh.