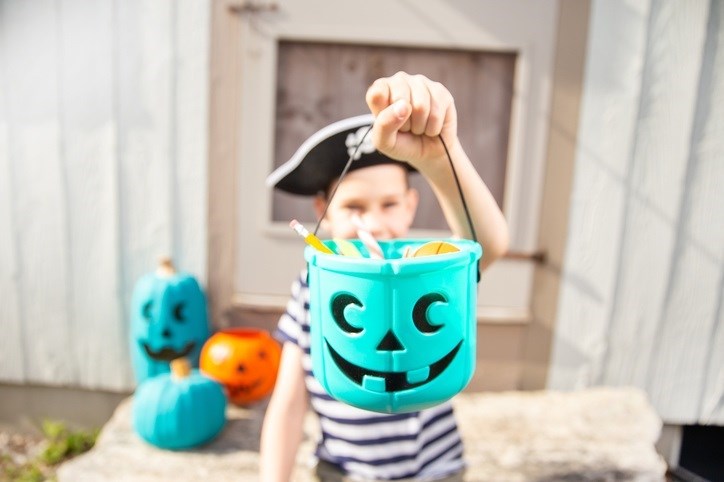 Teal Pumpkins: Halloween Markers for Kids with Food Allergies
Keep a watchful eye out for teal pumpkins this Halloween, in addition to being a quirky twist on bountiful harvest decor, they're signals for children with food allergies, so they know where they can find safe treats.
Putting a teal pumpkin, the color of allergy awareness, on your doorstep means you have non-food treats available, such as glow sticks or small toys. This relatively new nationwide initiative is dedicated to making Halloween safe and fun for all kids by promoting inclusion for trick-or-treaters with food allergies or other conditions.
The Teal Pumpkin Project is the brainchild of Becky Basalone, the mother of a child whose severe food allergies made navigating the Halloween-candy landscape a dangerous proposition. To enable her son and his big brother to participate in the fun of trick-or-treating, Basalone began handing out small toys and other non-edible gifts in lieu of traditional candy. To alert other families that it was a safe place for kids with allergies to stop, she painted one of the family's pumpkins teal.
Her efforts came to the attention of Food Allergy Research & Education (FARE), who took the project national in 2014 and, since then, the initiative has really taken off, as evidenced by the "Teal Pumpkin Project Map," an interactive map that shares the locations of households taking part in the Teal Pumpkin Project.
How to Get Started
1.  Provide non-food treats for trick-or-treaters.
2.  Place a teal pumpkin in front of your home to indicate to passersby that you have non-food treats available.
3.  Add your home to the Teal Pumpkin Project Map.
4.  Spread the word! Share the Teal Pumpkin Project with your friends and family.
Are you interested in joining our friendly and caring community? Stop by our Visitor Headquarters, The Post, or make an appointment to speak with one of our Tehaleh Ambassadors. They are all community residents ready to answer any questions you may have!