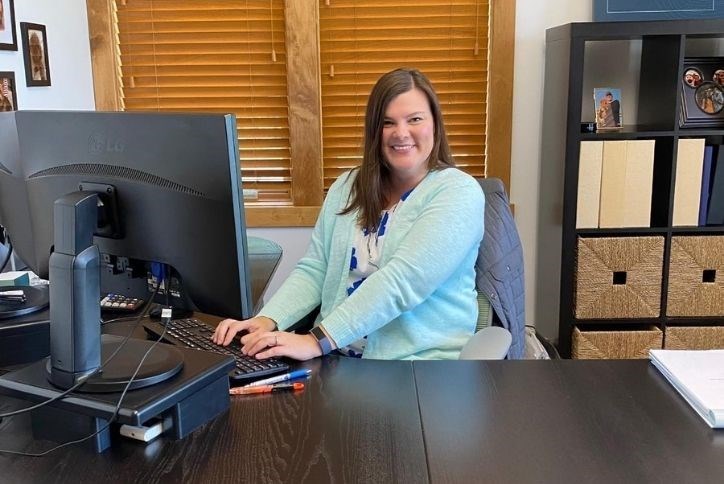 Let Julie Lead You Home
What makes Julie Kelly, the Tehaleh Marketing Manager, so good at what she does is the same thing that makes her a devoted family member, dog lover and friend to all. Julie's passion is evident in everything she touches and encounters, especially when it comes to Tehaleh. This is seen and felt by everyone who visits the community and all who know her personally. Julie's acquired skills over the years have made her the perfect person to be in the multi-hat-wearing position of marketing Tehaleh. Julie describes her job as promoting Tehaleh through various channels, enabling the builders, and creating a team culture that connects everyone who lives and/or works in the community. In other words, if it makes Tehaleh tick, she probably has something to do with it.
Julie's love for master-planned communities made her curious about Tehaleh, but there is something very special about this particular community, as she will tell you. She calls it "the Tehaleh journey." "From the first breath-taking time you drive through Tehaleh, you know it's unlike any place you have been. There is an automatic connection to the natural beauty, a feeling of community from the open friendliness, and excitement in everything that surrounds you. Marketing for Tehaleh is a true joy."
As the Tehaleh Marketing Manager, Julie does a lot more than advertising. She plans events promoting the builders, manages the Post (the Visitor HQ and onsite offices), and so much more. While her focus is always on tasks at hand, all it takes is a cute dog walking by her window for her to turn into the dog-loving, family person who never takes blessings for granted.
While some consider Julie a glass ceiling shattering businesswoman, she sees herself as wife and mother of two amazing grown kids. While those who work for her are grateful to have her calm, clear leadership,  Julie feels genuinely grateful to be able to help lead people to the fantastic community that is Tehaleh.