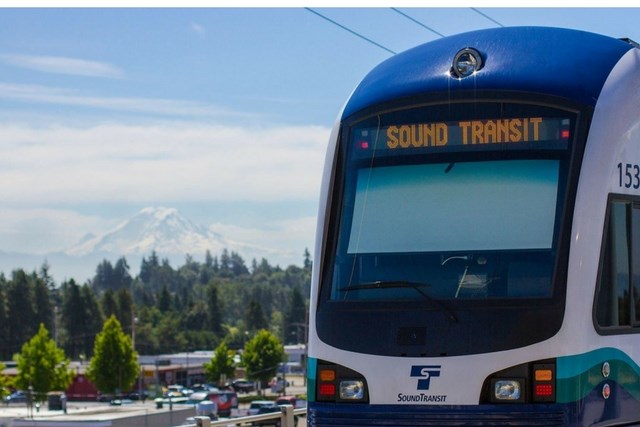 All Aboard for a Better Commute
All Aboard for a Better Commute!
We often hear our residents say that they wished they never had to leave Tehaleh. Alas, the real-world calls. But luckily for those who commute from Tehaleh, there are a variety of options to choose from that will get you to work – and home again – without adding stress to your life or congestion to our roads. Residents can take advantage of carpooling, shuttle, and park & ride services offered by Pierce County. Let's explore your public transportation options:
Leave your car behind 
Just five short miles from Tehaleh, transit riders are a quick drive to the Bonney Lake Park & Ride. Leave the driving – and stress to the experts, and use your extra time to read a novel or catch up on emails.
Smart commute 
Through RideshareOnline.com, you can connect with vanpool and carpool buddies in Tehaleh. Sharing your ride is one of the most cost-effective and flexible commuting alternatives to driving alone to work – those who vanpool save money on gas, maintenance, insurance, oil, tires, and general wear and tear on personal vehicles. Plus, sharing your ride contributes to the community's overall quality of life and the preservation of our environment – and you can get to know some of your Tehaleh neighbors!
Carpooling can even pay off for shorter distances. Sound Transit, which operates both trains and buses, is offering $5-per-month carpool parking permits to groups of two or more commuters who regularly drive together to catch the bus or train. One of the most popular ways to get around is the Sounder Train. Sound Transit offers fast, reliable service throughout the region and both the Sumner and Puyallup stations are just a few miles away. The best part of traveling by train? The luxury of being able to read the morning paper or get some extra shut-eye during your commute. Check out their routes and schedules here.
"We just hop on the bus at the Bonney Lake Park & Ride and it takes us straight to the Sounder train," said Tehaleh resident and employee, Marilyn Thoms, who often takes friends and guests into Seattle to sight see. "If we have the choice, we will always take the Sounder. It takes you straight into downtown without hassle and then we don't have to worry about traffic or parking. It's so easy!"
Shuttle service
Although Pierce Transit does not offer shuttle service outside their regular fixed route bus service area, if you live outside the service area shuttle staff can work with you to determine the best pickup and drop-off points (click here to view routes and download the map). They can also help you make travel arrangements with adjoining transit agencies.
Once you find the option that works best for your lifestyle, you can relax and settle into your new home. As you head out for your morning commute each day, you can look forward to those Mt. Rainier views greeting you when you arrive back home in Tehaleh.